Colorbond is Australia's favourite steel building material and Mackson has a wide array of kits, ideal for securing your home or yard. Custom-made to your specifications and designed with little installation effort required.

Seeking a guaranteed performance gate system?
Colorbond gate kits are easy to install with the right tools and know-how and coupled with Mackson's expertise, you can't go wrong.     
With over 20 years' experience in manufacturing and providing gate and access solutions, Mackson's unsurpassed expertise ensures means we can offer you the right DIY gate solution for all your security needs.
Our Colorbond gate kits not only offer convenience in installation but also guarantee durability and a sleek aesthetic that seamlessly complements your property. Trust in Mackson's legacy of crafting reliable gate and access solutions as we empower you to enhance security with confidence and style.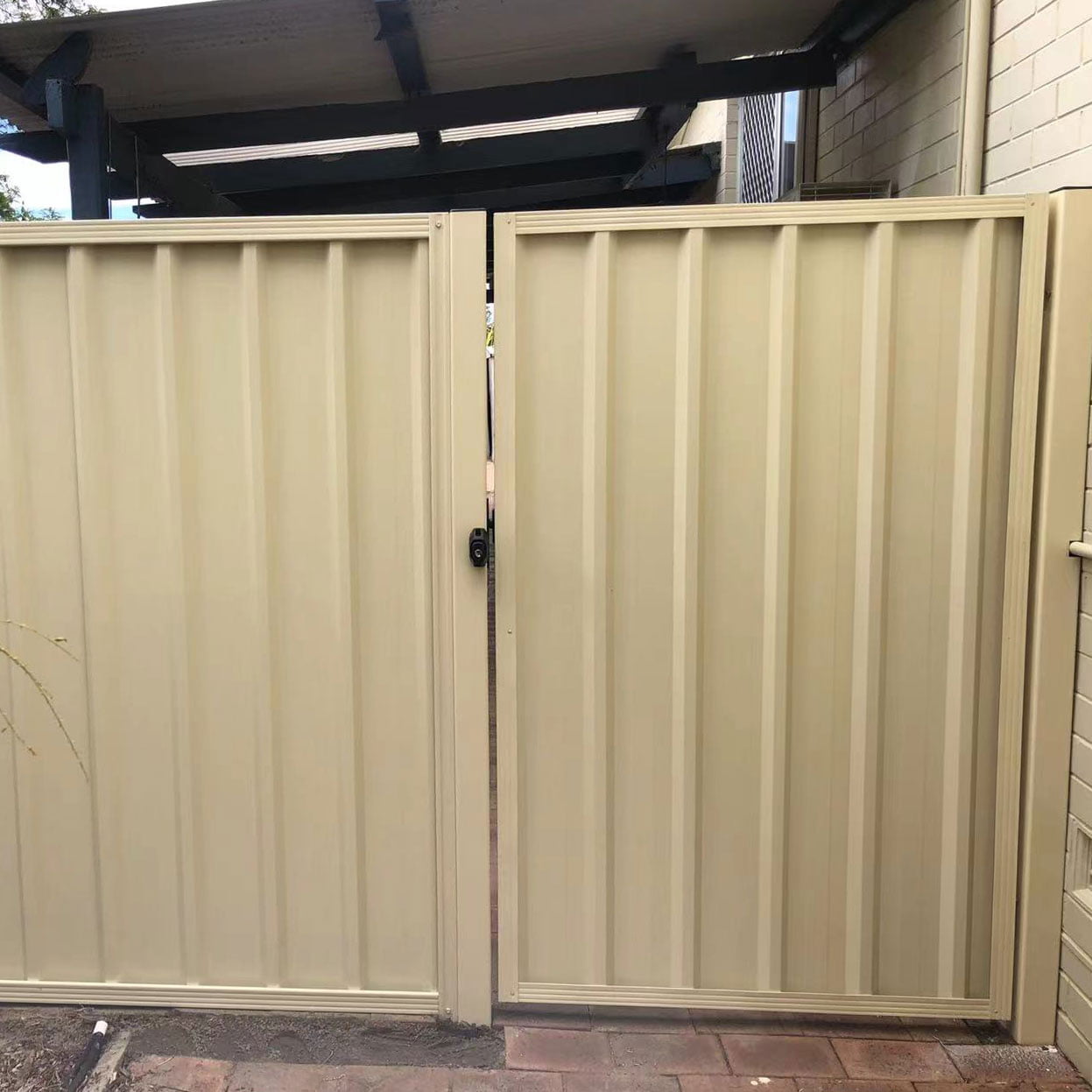 Sleek, Durable, Hard-Wearing & Affordable.
At Mackson, we love to make things easy for our clients, so we will guide you through all the options, to ensure your gate is:
Customised to your desired look, and materials.
Simple to Install.
Minimum maintenance required.
Lightweight materials used, making it easy for just about anyone to complete their own DIY gate project.
Strong steel hinges as standard.
Select from single leaf or double leaf gate to suit.
Powder coat to match your frame colour (choose from a wide range of available colours).
Upgrade post size: from 50x50mm to 75x75mm or higher.
Each gate kit can upgrade to a durable double-sided keylock.
Strong and Sturdy Colorbond.
Durable, stylish, and low-maintenance.
Perth's Colorbond DIY gate specialists
Australian made with premium long-lasting materials, Colorbond gates to suit the Perth environment. Rigid, robust, and fire-resistant. Mackson's gate kits are all custom made right here in WA. 
Choose Mackson for your DIY gate solution.
A family-owned business with 20+ years of experience, Mackson offers reliable and prompt service, quality workmanship, and affordable Colorbond gates with robust frames, and strong steel hinges that deliver practicality and durability.
If our FAQs don't have the answer feel free to get in touch with our expert team.
Our DIY gate kits can be installed as a front gate, side gate or back gate. When selecting a gate kit, you can choose from over 14 unique Colorbond colours available.
Our basic gate kits come with:
Pre-built gate with welded frame, infills and capping fitted.
Trimdeck sheets with Colorbond colours.
2x 50x50mm x 2400mm posts with caps.
1x d-latch or upgrade to double-sided keylock.
2x galv hinges.
In addition, Mackson manufactures its own capping used for gate's outer edges. Our patented safety edge design avoids sharp edges, unlike other traditional capping used by standard gate manufacturers.
Colorbond steel is tested to last in extreme Australian conditions offering 5 different layers of protection.
Colorbond steel is manufactured in Australia to Australian Standards (AS1397 and AS/NZS 2728).
Colorbond steel won't rot or be subjected to termites.
Gates made with Colorbond steel are easy to maintain – there's no need to repaint, reoil or replace palings. A simple hose down every 6 months will help prolong the life of your gate.
Fire safe, preferred product for insurance claims
Yes. Included in each kit is a D-latch with option to upgrade to a double-sided keylock. Upgrading the post size is possible, from 50x50mm to 75x75mm or higher. Choose between a single leaf or double leaf gate to suit your needs.
If you have other custom requirements, please ask our friendly team for more information.
Get in touch today. Our expert team will be more than happy to assist you!